One of our New Year's Resolutions as a couple was to go on an
once a month. Well, this month we didn't necessarily plan it this way, but our adventure ended up being two consecutive weekends with several different events.
The first part of our
January Adventure
was our Missions Weekend with the Youth from MBC. We drove up to Cook Springs, Alabama, stayed at WorldSong and did some missions work. Why was this adventurous? We were with students ranging from ages 11-17. That's ALWAYS an adventure. We

trekked

into the outskirts of Birmingham,

played

with underprivileged children,

scrubbed

a "game wagon,"

learned

what mineral spirits are,

stayed

up

really late, slept in

separate

beds for the first time since marriage,

played

with seatbelts,

laughed

A LOT,

ate

cafeteria food, and

played

in the snow all within less than

24 hours

. Whew.
The second part of our January adventure was technically RJ's Christmas present from me. I bought him tickets to see a play called

Bear

Country (link). It was shown by our local, prestigious,

Alabama Shakespeare Festival

(where we got engaged *

winks

*).

Bear

Country told the story of legendary Alabama football coach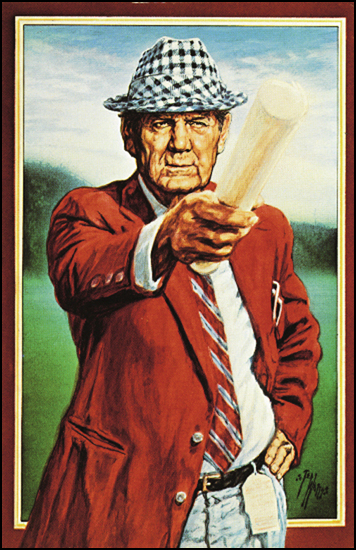 The first scene starts the play off perfectly.
The lights came up spotted on the

Bear

who is poised perfectly against his famous tower. He was wearing the famous outfit: plaid coat, slacks, red vest, and hound's-tooth hat. I got chills. He begins to speak, and it seemed as if I was listening to THE

bear

. It was like he was
talking directly to me
. He was the narrator for the entire story that captured his football career from beginning to end. There was a lot of humor intricately woven into the dialect. We laughed

multiple

times. There were some

slight

references to
drunkenness
, and the language was not of my choosing; however, varying religious undertones surfaced many times throughout the show. He quoted some of his prayers he llifted during hard times, and he sung "

What a Friend We Have in Jesus

."
The

Bear's

story is such a prevalent part of our state's history, and ASF portrayed it in manner that the

Bear

himself would be proud. Overall, I give it seventeen thumbs up. I would recommend this play for all football fans, Alabama or Auburn.
Oh yeah, we ate at Bob Baumhowers. RJ had

wings

, that he said were "ok" and I had a

Gooey Bacon Cheeseburger

. The name

Gooey

is allegedly because of the amount of cheese they put on the burger. It seemed pretty

dry

to me. It will be a while before I eat there again. Not too satisfied, though the "Gooey Cheese Fries"… Divine.